South Florida's most exciting tech event & expo is going virtual.  Enjoy 2 days of speakers, exhibitors and networking in a unique 3D environment.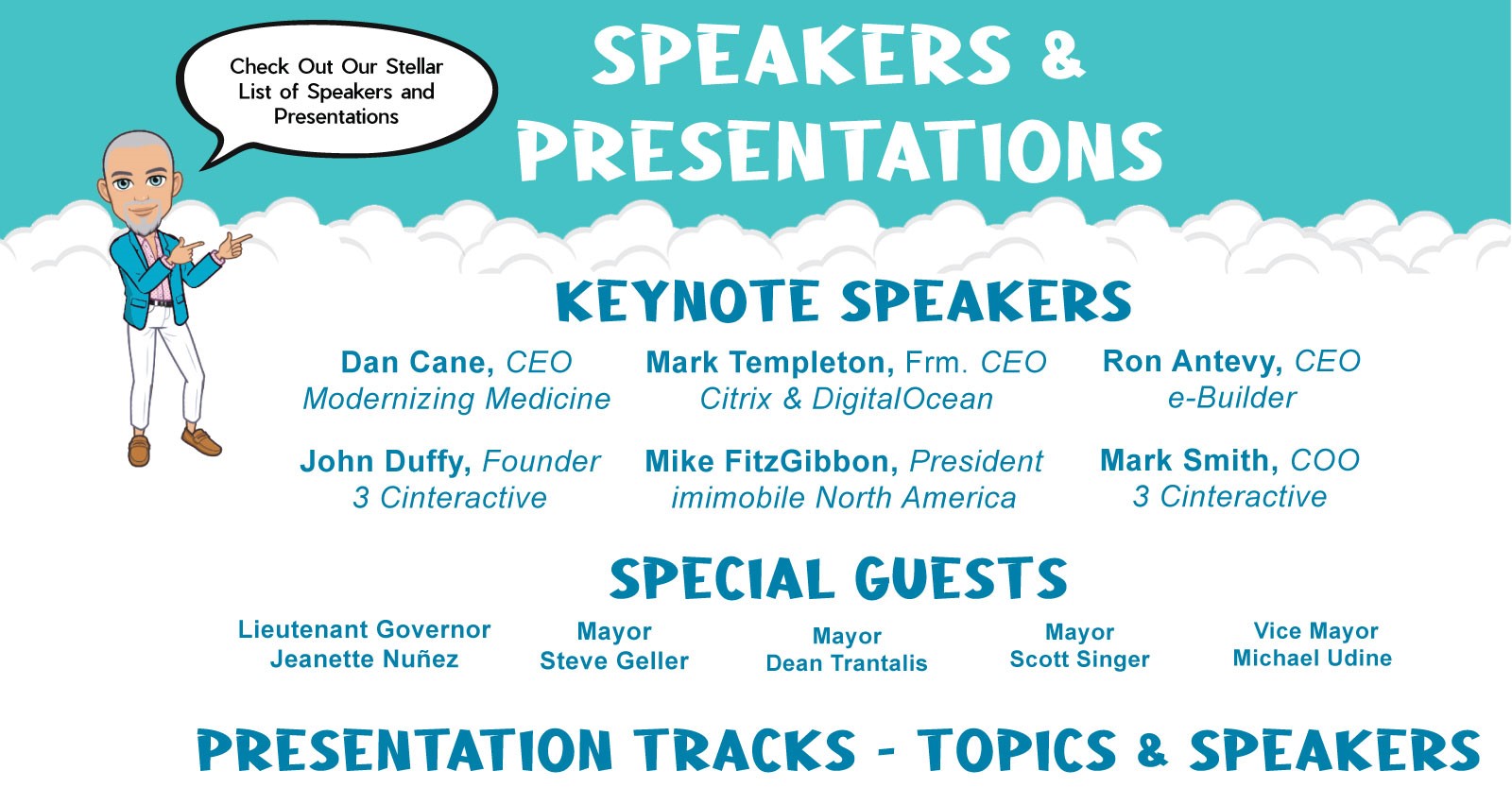 Please click on + to view speakers & topics in each track
5 Tips to Become CXO,  Marcos Christodonte, Global CISO, Gartner
Reimagining the Future Workforce,  Nicole Darden Ford, VP and CISO, Carrier
Inclusion & Diversity at American Express Sheree Britt, Dir. Product Delivery & Integration, Cindy Plymale, Director, Program Management Office, Gabriel Jimenez, Director, Engineering,  Karina Alvarez, Engineering Vice President, Brian Callaghan, Engineering Vice President
Corporate Culture Starts at the Top, Andrew Koenig, President, City Furniture.
Women in Leadership: The Ripple Effect, Leticia Latino CEO, Neptune USA Dr. Ruth Gotian CLO Weill Cornell Jane Veron CEO, Acceleration Project Hon. Claudia Cubillos Form. Mayor El Portal
Leadership Strategies,  Tony Casciotta CIO, Broward College 
Transforming Culture by Coaching Others, Michael Kublin President, PeopleTek
Culture Eats Innovation & Strategy for Lunch Priyanka Saxena, Leadership Coach and Consultant 
Women in Tech - Bridging the Gender Gap, Charlene Talbot Executive Director, New Horizons
How to Attract Talent, Ross Tucker Vice President, Sloan Staffing
Your IT Department Must be a Superhero, Howard Shore, President, Activate Group
Hiring Trends in South FL Tech Scene, Michael Beaton Director, Technology & InfoSec Search, StevenDouglas
Building In Your Own Resiliency,  Elizabeth Decker, VP Information Technology, Digital Colony
5 R's for Resilience,  Tushar Gadhia, Principal Consultant, Gadhia Consulting
Data Technologies, Past and Emerging Trends, Richie Goldman, Director of Data Management, Dycom Industries
Mindblowing Facts Around The Spatial Web,  Dan Mapes, Founder, VERSES Technologies
Business Intro to Machine Learning, Tahl Milburn, CTO, LifeState, Inc.
Democratizing AI w/ Automated ML in Azure, Adnan Masood Chief Architect, UST
Benefits of AI in the Startup Process, Sat Ramphal CEO, XiByte
AI & Machine Learning Applications, Drs. Avi & Sara Rushinek, Faculty, University of Miami
Emerging Trends in Data Center Automation, Moises Levy, Lead Engineer & Data Center SME
Your Productivity Cloud Across Work and Life, Michael Goldstein President & CEO, LAN InfoTech
Edge Computing: Extending Cloud to Everywhere, Tom Mays Chief Strategy Officer, Nodeweaver
Botify Your Life, Tracy Dixon Sr. Manager, Robotic Process Automation
Cloud-driven Security for the Cloud-driven World, Rob Krug, Senior Security Architect, Avast
Why Do We Monitor For Privacy, Rich Leon, CISO, Memorial Healthcare
Cybersecurity for 5G and Smart Cities, Akshay Sharma CTO, Kovair Software
Revisiting Your Cybersecurity Strategy & Culture, Michael Archuleta CIO, Mt. San Rafael Hospital
Regulatory Response to Ransomware, Bill Dillon Managing Shareholder, Gunster Law Firm
The Naked Truth About Phishing & Ransomware, Rema Deo, Managing Director & CEO, 24by7Security
Cybersecurity - From Strategy to Reality, Dr. Mauricio Angee CISO, University of Miami Health System
Cybersecurity Resilience in SMBs, Dr. Yair Levy Director of CIPHER Nova Southeastern University
Privacy & Marketing: Walking the Tightrope, Julia Marina Consultant, Kaufman Rossin
History & Business Value of Offensive Security, Dave Mayer Red Team Director, GRIMM Jorge Ochilles CTO, Scythe
Automation in the World of Digital Transformation, David Hartmann, Founder & CEO, SilverLogic
Building Residency with Hybrid IT, Jason Carolan, Chief Innovation Officer, Flexential
City Furniture Transformation Case Study, Andy Hill, CRO, City Furniture Manish Hirapara CEO, Peak Activity
The Simplification of Digital Transformation, Charles Grau, CIO, Nordis Technologies
Low Code Approach to Transformation, Vic Narang, CEO TechRev
Augmented Reality and Consumer Journey, Rob Petrosino VP of Innovation, Peak Activity
An Imperative for Competitive Success, Phillip Weinzimer President, Strategere Consulting
A Business Transformation Journey, Harsh Thaker, Chief Automation Architect Robert Booth, Director Process Discovery Accelirate
Safety Reimagined, Ross Jackson, Area Sales Manager Motorola Solutions
Growing Tech Entrepreneurship through our Universities, Robert H. Hacker, Director, StartUP FIU, Bob Williamson, University of Miami, Entrepreneur-in-Residence, Pinar Yildirim, Principal/Head of Investor Relations, FAU Tech Runway, Dr. Harika Rao, Assistant Professor, College of Business and management, Lynn University, Rhys L. Williams, Assoc. VP, Div. of Research, FAU
The Coming 5 Years of Tech Disruption in SFL, James Greene CEO, Disruptive Alpha
Managing the Distributed Organization, Stephen Garber CEO, Third Level Inc.
Innovation Center at NSU Coming in 2021, John Wensveen Chief Innovation Officer, NSU
Software Development Trends in 2021, Joseph Princz, CEO of Wrecking Ball, Sal Cordozo, Senior VP at OZ, Dagoberto Borda, Director of Engineering at Heisohn Corp
Developing Microservices Using Java and Spring, Zakir Magdum Sr. Architect, Device42
Getting Started with Agile, Erik Lindgren Agile Coach, PwC
COBIT for Software Development, Asif Malik Practice Lead, ABCo USA
Middle Tier - Blockchain for Developers, Pts 1 & 2 Russell Fustino, Developer Advocate, Algorand
Development Roles and Careers, Todd Albert Founder, Boca Code
NodeJS, ML, K8s and Unethical Face Recognition, Joel Lord Developer Advocate, RedHat OpenShift
ITPalooza 3D Sponsors & Exhibitors